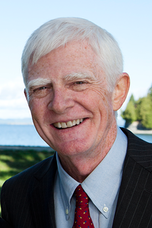 Jim Sheldon-Dean, Founder and Director of Compliance Services at Lewis Creek Systems, is a frequent speaker on topics relating to HIPAA compliance at national and local healthcare conventions and meetings, for Lewis Creek Systems' clients' staff education, and for a number of commercial providers of in-person and Web-based seminars.  
Speaker Services

If you would like to have Jim speak at your event, please send us a message via our contact form to see how Jim can give your group an inspiring, practical message about HIPAA compliance and protecting patient information.  Jim can speak about a variety of topics such as:
Maintaining the Quality and Accessibility of Patient Information Using a Privacy and Security Management Process
Responding to Patient Requests for Communications and Access
Mobile Devices and Managing Long-Term Health Issues
Planning for Continuous Assessments Of and Reactions To Threats to Health Information 
Your Workforce As Your Information Privacy and Security Task Force
Being Prepared for Events: Responding to Audits, Breaches, and Enforcement Investigations
Where Is HIPAA Going?  Longer Term Expectations for Privacy and Security
Jim can create just the right presentation for your audience and deliver it with passion and authenticity.  Please contact us to find out more.
HIPAA Education Services

Jim can create customized HIPAA training sessions for your managers and staff, specific to your organization and its policies and procedures, delivered in-person or as prepared MS PowerPoint shows.  
It's never been more important to make sure everyone does the right thing to protect patient information, and Jim provides the context and detail necessary to help make your workforce your privacy and security task force.  Standalone materials and follow-up quizzes are also available.  Please send us a message via our contact form to learn more.
For a sample free mini-training session on E-mail, Texting, and Mobile Device Hazards, please see our HIPAA Training Products page.
Scheduled Webinars and Seminars
Jim speaks about HIPAA at more than 70 seminars and Webinars every year, and there are always several scheduled over the next few months.  To see what's coming up soon, please see the page on Upcoming Public Seminars.
In addition, many of the seminar providers also have available archived versions of sessions on many of these topics, available on-demand.  Do a search for "Sheldon-Dean" on the provider Web sites to see what is currently available right now.